---
---
---

---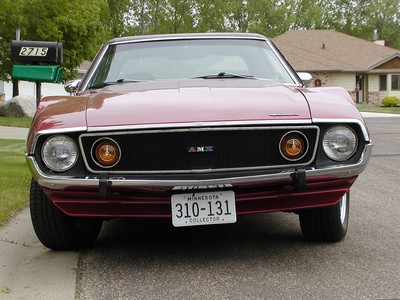 Three major areas exist on this web site accessible by the menu. The first is my blogs about my 1973 American Motors Corp. (AMC) Javelin AMX, the second is general information about AMC in particular 1968-1974 cars, and finally links to internet information about AMC.
The first area covers why bother with a Javelin when I could have a Camaro, Chevelle, Mustang, or Cuda (insert whatever make/model you want). Also included is work being done on my car and other ancillary items that deal with my car.
The second area is general information about AMC and AMC cars. Most of the information is widely available all over the internet however some of the content is unique to this site.
The third area is the "Links" page to other sites I found interesting with various kinds of information or social interaction (forums).
This site has a fourth area, it's FORUM, but I do not advertise it or seek any members it only exists to have a complete site.
Feel free to CONTACT me if you have any questions, comments, concerns, complaints, requests, etc...
Currently snow bound in Minnesota, Jeff
Created April 10, 2002
Updated April 22, 2002
Updated June 2, 2002
Updated January 12, 2003
Updated April 3, 2003
Updated November 23, 2003
Updated January 30, 2006
Updated March 6, 2013
Mobilized April 10, 2015