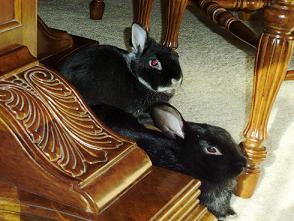 Hi I am Belle the beautiful doe in the back with Silver Marten coloring. I am a small doe weighing in at just 3 lbs. and I really don't like discussing my age. I really don't care much for agility but every once in a while I do a couple small jumps on a small course. I prefer to hide from the humans, I just don't trust them. Speaking of the humans they adopted me Jan. 11, 2009 from MCRS. The big buck in front of me is Cookie, my bond mate. Wow he is really something handsome, fast, and powerful. He weights 5.5 lbs. and is all muscle. He is quite the agility rabbit big jumps and did I say fast! He even lets the humans pet him at home, so brave. He is the greatest always grooming me what can I say he is the best. The humans adopted Cookie on June 15, 2008 when he was just a little kit from AHS.
Belle crossed the rainbow bridge March 11, 2015 after a year battle with cancer. RIP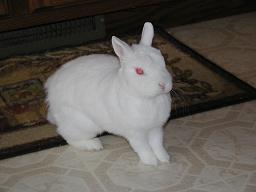 I'm Creme a Netherland Dwarf classified as a Ruby Eyed White(REW). The humans adopted me on April 26, 2009 from MCRS. I weigh in at 3.0 lbs., just right finally. First I was a little on the chunky side, because the stupid humans gave me too much oatmeal which was to help my GI problems. Then the humans screwed up too much the other way I was down to 2.4 lbs., I needed more food. I am a great agility rabbit unfortunately my GI problems keep my training to a minimum. The humans don't scare me one little bit I love to follow them around the house, let them groom me for hours, and cuddle with them.
Crossed the rainbow bridge June 25, 2013 after a 4 year battle with GI issues, she is greatly missed.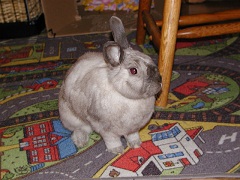 I'm Greycee, a Champagne d'Argent, I have an awesome swirly Grey and White coat. The humans adopted me on April 10, 2010 from MCRS to be a BFF for Creme. Little did they know I don't really like other rabbits too much, humans are better, and prefer to attack before I get attacked. I really don't care much for the agility stuff and the humans let me skip out on that but I am a great therapy rabbit. I am bonded with Reeses we do well together.
Greycee crossed the rainbow bridge December 2, 2015 due to complications associated with arthritis.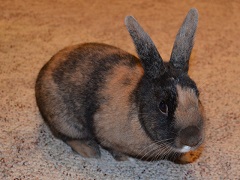 I'm Reeses, a Harlequin with a Tortoise shell coat. The humans adopted me on August 10, 2013 from MCRS to be a BF for Greycee. So far the agility stuff is awesome, I really like it and am quite good at it. I have passed by therapy tests and am now a registered therapy rabbit. I bonded with Greycee unfortunately she crossed the bridge so I am trying to work out a trio with Cookie and Hazel.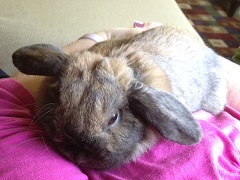 I'm Hazel adopted by the humans from the Animal Humane Society in Golden Valley, MN. on April 22, 2015. I am a Holland Lop that weighs in at 3.5 lbs. The human's adopted me to be a friend for Cookie after the passing of Belle, the bonding has been postponed due to Cookie breaking his leg. I am not really liking the agility stuff, I will give it a couple mores tries before I give it up though. I am more the therapy type of girl, I like pets a lot so I became a registered therapy rabbit. I am living with Cookie now, I though we would be a threesome but Cookie kicked Reeses out.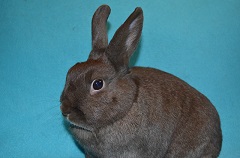 I'm Coco adopted by the humans from the Animal Humane Society in Coon Rapids, MN. on May 24, 2016. I was listed as Polish, althought dad doesn't think I am, weighing in at 4.44 lbs. The human's adopted me to be a friend for Reeses after the passing of Greycee. I am probably not going to be an agility rabbit but time will tell. Therapy sure seems to be more my speed.