Need to design an agility course for dogs, rabbits, or any other animal then Purple Trails Agility (PTA) is your FREE software choice. PTA is loaded with plenty of features: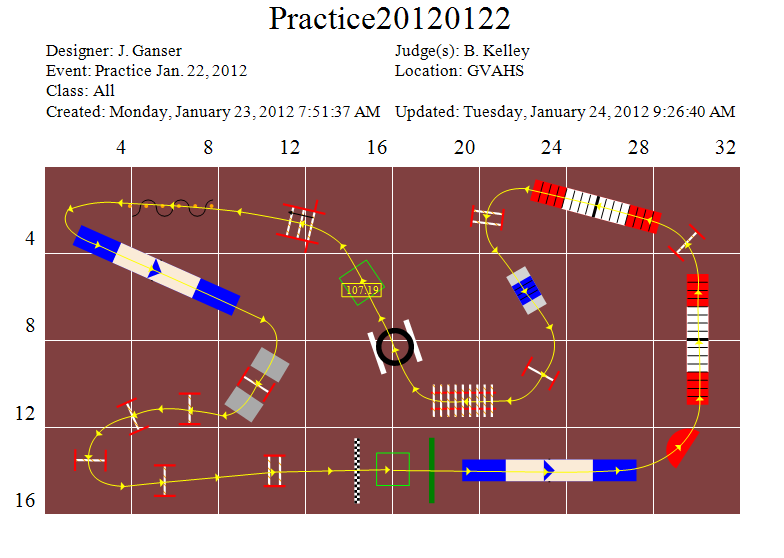 FREE (requires registration to unlock all the features).
Flexible enough to design courses for rabbits, dogs, pigs, horses, and mice.
Over 20 pieces of agility equipment.
Intuitive use.
Use feet, inches, meters, or centimeters.
Choose your own colors for the equipment and field.
Share your designs as jpeg, bitmap, pta files, or print hard copies.
Rotate and move equipment individually or as a group.
Invert and reverse courses with ease.
Show the path to be taken by contestant and handler.
Download the demo version of Purple Trails Agility software, it is not time limited but its functionality is limited. With the demo version you cannot save your designs and only a few obstacles are available to be placed on the course. The demo version can also be used as a viewer to view courses that others have made. Click the demo button to start your download of the demo version of Purple Trails Agility.
Download PTA
To unlock the demo version all you need to do is send us a message with a first name and location (City, State/Region, and Country) and we will send you a key.
Not ready to try the demo then you can download just the documentation.
Documentation Only
Need more information then visit the Purple Trails Agility course designer web page.
More Info

SOFTWARE REQUIREMENTS 

Minimum system requirements: 
Operating system: Windows 7 / Windows XP SP3 / Vista 
Microsoft .NET 4.0 Framework Client Profile
Processor: 500 MHz Intel Pentium II (or equivalent) 
Hard disk space: 5 MB for installation 
Memory: 512 MB of RAM 
Display: 800 x 600 resolution for monitor 

Recommended system requirements: 
Operating system: Windows 7 / Windows XP SP3 / Vista 
Microsoft .NET 4.0 Framework Client Profile
Processor: 1GHz Intel Pentium III (or equivalent) 
Hard disk space: 5 MB for installation 
Memory: 1 GB of RAM 
Display: 1024 x 768 resolution for monitor